A PEEK AT THE 'CLERKS X' 10TH ANNIVERSARY DVD - DETAILS AND PICS
The 'Clerks X' 10th Anniversary DVD will be in stores on September 7th, 2004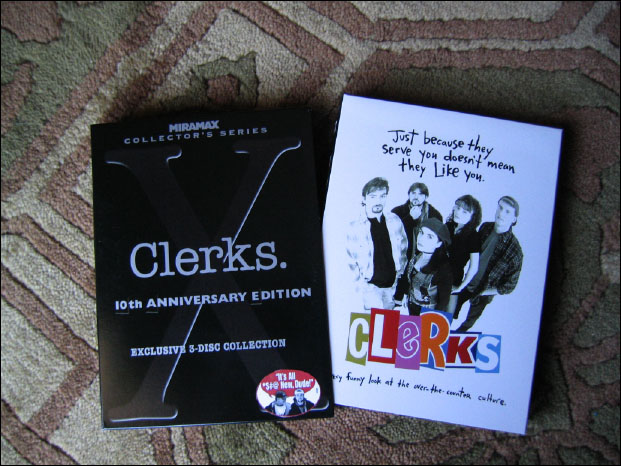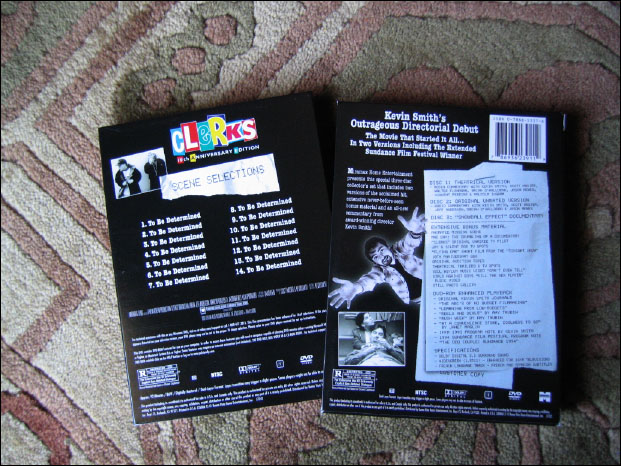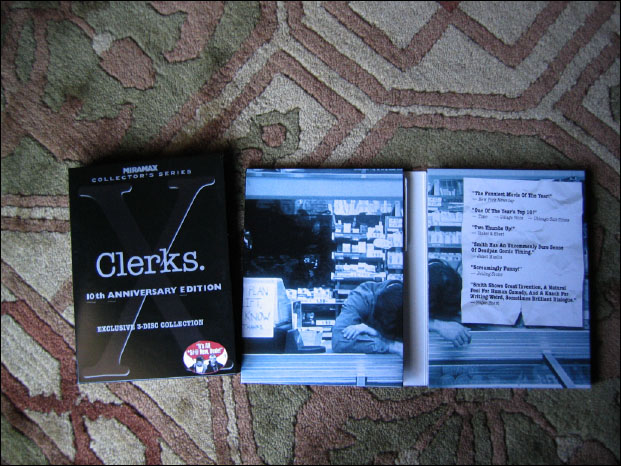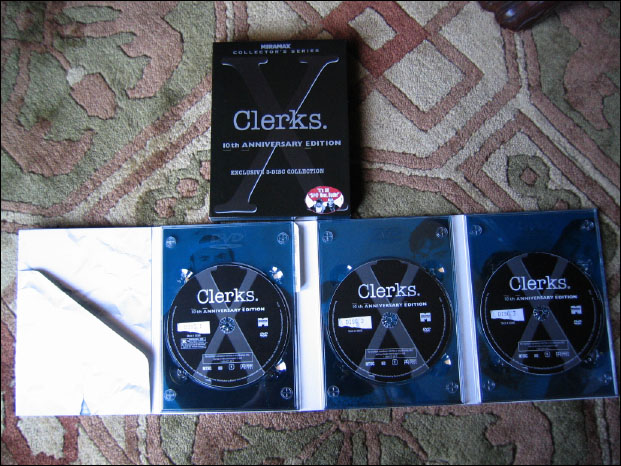 PLEASE NOTE: These images may not be duplicated or used at any other website outside of www.viewaskew.com, www.newsaskew.com, and www.moviepoopshoot.com. Any other website running these images will get the Miramax/Buena Vista Home Video legal smack-down.
From Kevin:
Here's a taste.
Mind you, this isn't the final. There are mistakes to correct and the contents aren't locked yet. But the package'll be pretty damn close to this.
Here's a current list of what's slated to be on the three disc "Clerks X" box set...
The 93 minute "Clerks" Theatrical cut- All new HiDef transfer from 16mm IP supervised by Dave Klein with all-new 5.1 Skywalker Sound remix supervised by Scott Mosier, includes original commentary track from laser disc/initial DVD release (Disc One)
The 103 minute "Clerks" IFFM First Cut, includes all-new audio/video commentary track with Kevin, Scott, Jeff Anderson, Brian O'Halloran and Jason Mewes. (Disc Two)
The 95 minute "The Snowball Effect: The Story of Clerks" Brand Spanking New Documentary that inteviews almost everybody who ever had something to do with "Clerks" (Disc Three)
The MTV Jay and Silent Bob shorts that everyone's been crying for us to put on a DVD for years now
The Arclight 10th Anniversary Q&A with Brian, Jeff, Marilyn, Scott, Dave, Mewes, and me
Lots of new video intros.
"The Flying Car" short from the Tonight Show (re-telecined in HiDef).
The Original theatrical trailer
"Can't Even Tell" Music Video
The original Jeff, Brian, and Marilyn and Ernie O'Donnell audition tapes
The brand new, seven minute animated "Lost Scene" short
Expansive Still Photo Gallery
'Clerks' Trivia track
Original 168-page original first draft screenplay
Kevin's 'Clerks' Journal
Kevin's 'Sundance' Journal
Peter Broderick's 1992 article "The ABC's of No-Budget Filmmaking" that inspired the budget for 'Clerks'
Peter Broderick's followup article "Learning from Low-Budgets" a year later that does the same treatment on 'Clerks'
Amy Taubin's Village Voice article on the 1991 IFFM and 'Slacker' that inspired Kevin to take 'Clerks' to the IFFM
Amy Taubin's Village Voice article on the 1993 IFFM about 'Clerks' being the gem of the festival.
Janet Maslin's 1994 New York Times review of 'Clerks' entitled "At a Convenience Store, Coolness To Go"
The entire John Pierson 'The Odd Couple: Sundance 1994" Chapter from 'Spike Mike Reloaded' book
The original Kevin-penned IFFM program note
The original Bob Hawk-penned 1994 Sundance Film Festival program note.
"Mae Day" - Kevin and Scott's Vancouver Film School documentary short.
Booklet.