The word on the upcoming 'Chasing Amy' and 'Dogma' DVD's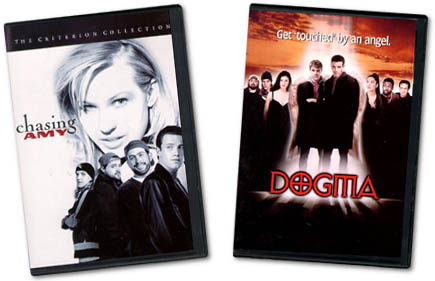 The following was recently revealed by Kevin:
Posted by Kevin on January 14, 2000 at 14:50:55:
"Some news: I've learned that Criterion will be releasing the 'Amy' DVD in April. It's basically a copy of the superior Laser Disc they put out (which very few probably saw). That should settle that unresolved issue.
Which leaves the 'Dogma' DVD, which I'm now told will be released (with the VHS) on May 2. It's going to be the fully loaded edition (we're recording commentary in early Feb.), so you won't be burdened with having to buy two versions of the flick. Mark those calendars."
UPDATE:: There actually will be two versions of the Dogma DVD, a bare-bones version to be released May 2nd, and a fully packed version to be released later this year. The above news on the Dogma DVD is no longer true, although it was at the time.
See here for the DVD/VHS Press release.
February 24, 2000:
Affleck says:
We recorded the Dogma DVD commentary in NY on Sunday (Feb 20th, 2000). Kevin and Scott and both Jasons were there. I'm doing a follow-up one on one tomorrow. The guys seem to be putting a tremendous amount of work into the Dogma DVD and if you liked the Mallrats disc, I'm sure you'll enjoy this one even more.
And just in case you forgot, the Criterion Edition of Chasing Amy features the following:
A new widescreen (1.85:1) digital transfer

Discrete 5.1 channel Dolby Digital soundtrack

Screen-specific commentary by director Kevin Smith, producer Scott Mosier, actors Ben Affleck and Jason Mewes, associate producer Robert Hawk, and Miramax executive Jon Gordon.

Ten deleted scenes

The original theatrical trailer

Outtakes

Special video introductions from the cast and crew

The Askewniverse Legend; a guide to the characters in the "New Jersey trilogy"
See The Criterion Collection for more info.