Criterion Releases Chasing Amy DVD Details
February 22nd, 2000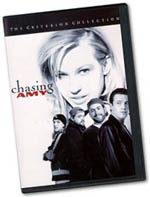 Many of you out there who preordered the Chasing Amy DVD from the various Web-based outlets woke up shocked and surprised after receiving an e-mail stating that your order and the DVD had been cancelled. Fortunately that is not so. It has however been delayed so that a few extras could be added on. The following features are courtesy of The Criterion Collection's website:
SPECIAL FEATURES
---
Widescreen digital transfer, supervised by cinematographer David Klein and enhanced for 16x9 televisions
Discrete 5.1 channel Dolby® Digital soundtrack
New video introduction to the DVD edition from director Kevin Smith
Screen-specific audio commentary by Kevin Smith, producer Scott Mosier, actors Ben Affleck and Jason Mewes, associate producer Robert Hawk, Miramax executive Jon Gordon and View Askew historian Vincent Pereira
Ten deleted scenes, plus outtakes
Theatrical trailer
Video introductions from the cast and crew
Special poster insert, The Askewniverse Legend: a guide to the characters in the "New Jersey Trilogy"
English subtitles for the deaf and hearing impaired
Optimal image quality: RSDL dual-layer edition
As of right now, no set release date has been specified.
The Criterion Collection's Chasing Amy Page