Kevin's Cameo in Daredevil - photos from the set!
First posted on joblo.com on April 3, 2002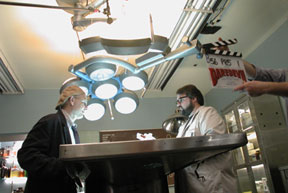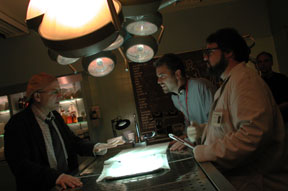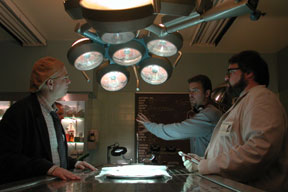 Click on the above images to enlarge
Yup, that's Joe Pantoliano as Ben Urich and standing across from him is none-other-than writer/director Kevin Smith (more from Smith later in this article)! And in the second and third shots, the mystery man is director Mark Stephen Johnson. Now just check out the logo on the clapboard. Isn't that enough to get your drooling like an idiot? Now as I was saying about Kevin Smith, we've also got a brief on-set interview with the man as he talks about his character, Ben Affleck, Joey Pants and of course, the Man Without Fear. This is what he had to say:
---
On April 2, 2002, writer/actor/director Kevin Smith, who is also known for being one of the most respected writers for Marvel Comics' "Daredevil" series, made a one-day cameo appearance in the film "Daredevil" on location at Crenshaw Hospital in Los Angeles. Kevin plays "Jack Kirby" (note Marvel reference), a morgue attendant in a scene with Joe Pantoliano, who plays reporter Ben Urich.
The following are quotes were obtained from a brief on-set interview with Kevin:
Q: WHAT IS IT LIKE TO BE IN A DAREDEVIL MOVIE?
KS: "Pretty Awesome! It's sort of like playing Daredevil himself - which I'm not in the shape for. It was really generous of [director] Mark [Steven Johnson] to put me in the film."
Q: WHO DO YOU PLAY?
KS: "I play a forensics assistant who is willing to take some cash to give Urich the inside dope."
Q: WHAT ARE YOUR THOUGHTS ON WHAT YOU'VE SEEN FROM THE FILM?
KS: "When I did a costume fitting, they let me take a peek at the Daredevil costume and it is flat-out phenomenal! It's as close as you can get to the comic book page without looking ridiculous. These guys know what they're doing.
Q: WHAT DO YOU THINK OF MARK STEVEN JOHNSON AS DIRECTOR?
KS: "Mark is as passionate - if not more so - than anyone can be about making a 'Daredevil' movie. He's done heavy-duty research. He's read all the important Daredevil work, and the not-so-important Daredevil work - like my own - and he's certainly not going to let any Daredevil fans down from what I've seen.
Q: WHAT DO YOU THINK OF BEN AFFLECK AS DAREDEVIL?
KS: "As long as Affleck leaves his ham-fisted theatrics - the ones he lends to my pictures - in the trailer, he'll be awesome. He's always been a big fan, long before the film was a twinkle in anyone's mind. Ben has always said that the only movie he would ever put a costume on for would be a Daredevil flick. This is probably a dream come true for him."
Q: WHAT DO YOU THINK OF THE REST OF THE CAST?
KS: "I think Mark [Steven Johnson] got incredibly lucky to surround himself with a cast so willing to put on funny outfits - in addition to the fact that they're pretty intelligent, believable, strong performers."
Q: WHAT'S IT LIKE DOING YOUR SCENE WITH JOE PANTOLIANO?
KS: "I was delighted when I saw his name on the call sheet. I mean, 'Guido the Killer Pimp!' [from "Risky Business"]. You can throw a rock and you hit a stellar performance from Joe Pantoliano: 'Goonies,' 'The Matrix,' 'The Sopranos,' 'The Fugitive.' He's incredibly well-cast in this role.