AICN - Mysterio's Week TEN Report From JAY & SILENT BOB STRIKE BACK - Part II
First posted on AICN on April 17, 2001
'JAY and SILENT BOB STRIKE BACK' – On-Set Production Report
WEEK TEN – PART II of II
Week 10 – Friday, March 23 through Tuesday, March 27th.
"THE TALENTED MR. RILEY & FRIENDS" – Friday, Day 45
Outside Stage 14, stands "Buffy The Vampire Slayer's" very own "Riley", aka Marc Blucas. To look at him though it seems he's dressed in wardrobe more suited to slay some laughs rather than vampires. For him, his look for the film is completely different but yet so familiar.
Looking also somewhat familiar is Carmen Lee who's on set today as well, acting alongside Blucas and a newcomer named Jane who are all dressed the part and ready to play.
The place looks like a psychedelic disco from hell, complete with crazed lights, smoke and even a mirror ball spinning dancing lights all around.
One thing I've definitely noticed so far is that there are a lot of girls in underwear in this film, and today is no exception, as I watch from behind the monitors, as the girls do a little dirty dancin' in their bras from inside a van.
There's also a mechanical dog here and a live counterpart named "Jake" who, if anyone's familiar with Walt Flanagan's infamous dog, has similar attributes accentuated to him for a visual gag.
The dog's trainers are now trying to get the real dog to do a simple roll over on his back, and after several attempts and a lot patience does the dog finally eventually come through to Kev's satisfaction.
Vincent Guastini, the head of make-up effects (who also did 'DOGMA') brings in his team to demonstrate the animatronic dog's features to Kev and Scott. The dog has about 6 operators all working together pulling various cables to simulate "lifelike" movements that the real counterpart would do. Kev likes what he sees and informs Vincent that he'd like to try starting with the animatronic dog first thing tomorrow morning.
"EVERYTHING FALLS APART" – Saturday, Day 46
It's early Saturday morning, and the day's already gone into a tailspin of sorts, as Vincent and his team are having mechanical problems with the dog, and desperately trying to fix it, as time is money, and today's schedule is tight, including a company move later to an outside location. So a delay like this can obviously be a time consuming as well as costly one at that.
Aside from the dog, Jay was also a bit tardy to makeup this morning, which involved a 2-hour makeup job.
Scott and line producer, Laura Greenlee are on set to oversee the filming of the dog, while Kev is catching up on viewing some dailies, and 1st AD, Tim Bird works on directing the dog. Now Laura's job is primarily to make sure that everything goes smoothly, timely and most importantly keeping the picture on schedule and under budget. So these little set backs don't do much to help her, as things already seem to be running bit behind.
Once the dog's back up, Laura calls Kevin from dailies to approve the dog's movements and camera set up. Once Kev arrives and cameras roll on the dog, the mechanical eyes die and soon the head of the pooch begins to smoke ala 'Scanners'. After closer examination, it's learned that the wiring or battery has been fried.
Needing to move on, Kev instructs them and the 2nd unit team to see what they can do as Jay finally arrives on set shirtless, showing Kev his make up job for the scene which is about to be shot.
The scar on Jay's right backside looks real good, and everyone seems quite impressed, until something dawns on Kev, and his face goes blank. "Oh no!" cries Kev as he realizes the scar was to be applied on Jay's LEFT side, not right, as indicated several times before in a rehearsal meeting held earlier this morning.
There's no time to remove and re-apply the scar, so a solution needs to be worked out and fast. It's decided, although the scene was blocked out yesterday, that they'll have to reverse the shot and set up, to compensate for the error.
After lunch, the cast and crew pack up and head out to the west side of the valley to wrap up some shots before days end, while the 2nd unit team stays behind to try and get the needed shots from the mechanical dog.
As I'm one of the first to arrive on set, I watch as extras are wrangled up and fitted for a quick scene, which goes off without a hitch. Once Kev arrives, it looks like the day is beginning to take its toll, as he appears to be reaching the point of exhaustion, and Jay seemingly more irritable.
Kev and Jay arrive on set by shuttle bus from their trailers, dressed and ready to do their scenes. But before that, Kev does the director thing and checks the shots with DP Anderson, Scott, and 1st AD Bird first.
The scene calls for a hitchhiking Jay and Silent Bob to simply hop into a van and drive off out of frame. But the nighttime shot proves anything but easy as it takes a total of 18 takes, marking a 3-way tie for most takes for a scene during the course of shooting.
Upon finishing, the crew moves over to set up across the street, using a crane to shoot the van driving by from overhead. While they do this, Kev and Jen spend some time together, while Scott and I talk technical production stuff.
The day finally wraps around 9pm, and for some of the crew, today marks their last day on production. But for most of us, that day will come on Tuesday, and the final call sheet given to the crew serves as a sad reminder that indeed, this is all about to come to an end.
"GOOD-BYE, MEWES-Y TUESDAY… – Tuesday, Day 47
Well this is it for most of the L.A. team, including myself, as after today only a small handful of the crew will be making the journey to Jersey to wrap up production back where it all began, just a mere 8 years ago.
But before packing, there's still a lot of business left to take care of, consisting mainly of more "blue screen" shots involving Jay, Silent Bob and Suzanne and yet another somewhat familiar sight gag.
While the cast and crew work to get the necessary shots in the can caterers are brought in by the truckloads. An ice sculpture depicting the production logo is carted in, and food galore is all around. Beginning with some Krispy Kreme donoughts in the morning, some Japanese by 11am, lunch by 2, a sundae bar complete with a birthday cake for 2nd AD Heather Grierson, followed with topping the early evening off with a Texas-style B-B-Q of ribs, chicken and beans. One thing's for sure, no one's going away from this shoot hungry.
The day finally comes to an end around 7pm, with Jay closing out the last martini shot in LA. Congratulations and well wishes are then passed around, and pictures taken, before the crew leaves to finalize packing for the trek out to Jersey tomorrow where shooting will resume on Friday.
"SO, WHAT'S LEFT?"
The road in making this picture has been a long and winding one. It's held, in its journey, more pleasure than pain which is largely due to Kevin and the amazing cast and crew, who have assembled to help take part in making this film, less now a dream from Kevin's imagination, and more a reality.
That's the miracle of being witness from the concept on the page to the execution mounted in visually capturing the images on celluloid and seeing them projected on a daily basis, and even viewing partially edited scenes.
Which speaking of editing, that's when the film now moves into its post phase. Even as you read this, editing on the film is continuing at a fever pitch. The visual effects team is also hard at work to complete the many, many visual effects mounted for this film. And yes, I'm still talking about 'J&SBSB', and to help give you an idea of effects involved, I'm told just for the Bluntcave stuff, there are no less than 100 effect shots being done up for that sequence alone.
And then comes the sound mix and any replacement of dialog (ADR) needed to be re-recorded on the stage as well as the foley mix, which once all is completed, Kev and Scott will then be moving up to the Skywalker Ranch to do a full sound mix.
So you can see, there's still a ways to go.
Now where we go from here is pretty much anyone's guess, as Kev has invited me to continue on and follow the production through the post phases, which really becomes interesting after a first cut is assembled. Then it's time to trim things down, leaving much footage left on the cutting room floor to ultimately be included later in the DVD. The idea is to bring this flick somewhere in the timeframe of around 100 minutes. I'm told they've already got enough footage to bring an early cut in at around 2 _ hours, so you can see, stuff is unfortunately going to get lost in the process.
And then you have the test screening process, that no doubt the powers that be at Miramax will test, and those anxious to see it, will again no doubt get into. And its here's where the fatal opportunity exists for most of the film and jokes to get out and spoiled, but where else, on the internet.
So these "weekly" columns may draw to a close, but there's still a lot of work and other surprises I'm working on to keep you View Askew junkies guessing and hopefully more excited as the day draws nearer. Plus the fact that there's sooo much more material I have culled together that hopefully I'll be able to touch more upon later.
I've got several interviews I've conducted, with most of your questions being asked and answered that I've yet to transcribe. So keep the faith, as I haven't forgotten about you guys.
Also, you guys want more pictures. You LOVE the pictures, I know. I do too. Unfortunately Kevin was only able to supply me with a short amount before hopping back to Jersey, but hopefully I'll be able to convince him in tossing me a bunch more for you guys, since the hectic shoot schedule has now drawn to a close.
I've also taken well over 100 digital photos on set myself, and until Kev and I can get together and sort them all out, we'll all just have to play the patience game here.
But before I draw this "weekly gig" to and end I'd just like to say take a moment to thank all those involved for being so kind and generous to keep me in their company, even though I'm supposed to be "the enemy".
HUGE props and MANY thank U's go out to: Gail Stanley, Zak Knutson, Donald Efert, Robert "Ratface" Holtzman, Scott Purcell, Jenni Desnouee, Monica Hampton, Phil Benson, "Crafty" Dave & Dre, Annie Miller, Taylor Knight, Lisa De Alva, Scott Sener, John Harrington, Don Feeney, Erin Maguire, Whit Norris, Bud Raymond, Kevin Ballin, Huey Redwine, Bill Clevenger, DP Jamie Anderson, Hillary Momberger, Keith Jones, Chris Bryson, Scott "Brownie" Brown, Casey (2nd 2nd) Mako, Heather Grierson, 1st AD Tim Bird, Sue McNamara, Laura Greenlee, Malcolm Ingram, George Carlin, Renee Humphries, Jules Asner, Don May Jr., Bob Chapman, Brad & Chris over at "NewsAskew", Ming Chen, Ben "Holytoads", Amy Noble, Bryan Johnson, Walt Flanagan, Bryan Lynch, Joey Lauren Adams, Dwight Ewell, Morris Day, Matt Damon, Ben Affleck, Mark Hamill, Brian O'Halloran, Marilyn Ghigliotti, Seann William Scott, Jane Silvia, Joe Reitman, Shannon Elizabeth, Jeff Anderson, Will Ferrell, Jason Lee, Jordan D'Alessio, Dietrich Bader, Eliza Dusku, Ali Larter, Alanis Morissette, Paul Dini, M.S. Johnson, Moriarty, Harry Knowles (for giving these reports a home), Jason Mewes, Jen Smith, Scott Mosier, and of course countless "thank you's" to Kevin Smith for being the first to open the door this wide, welcoming me in with open arms and making this all possible.
I'd love to keep in touch with as many of you folks as possible, so if I didn't get the chance to catch you and get your contact info, feel free to drop me a line here anytime. I'd love to hear from you.
If any of you ever have need of me. If only to hear the melodious timbre of my haunting vibrato, email me here at Mysterio_9999@yahoo.com!!!
And lastly to my family, friends and you the readers, who've put up with all this insanity for the past three months, spelling errors and all…
It's been a thrill.
I'll be continue to make posts sporadically from this point on with interviews, photos, and further reports from the inside. So check back here for more.
In flashing back for a second, I remember a few weeks into this shoot, having already met several key members of the cast and crew, I made mention to Kev how surprised I was at how genuinely kind and cool everyone here is. He simply responded back, "Yeah, there's not a bad apple in the bunch is there?" I wholeheartedly agree.
They say you can pick your friends but not your family, and in most cases they'd be right. But in the case of Kevin Smith, he's managed to somehow bend this rule, and in picking his friends, have made them a part of his family, a family that will continue to grow and expand even further, beyond the ViewAskewniverse and well into the next.
-Mysterio
I love everyone! I do, I do, I do!!!
Before I show you the pics, I have to give thanks to DP JAMIE ANDERSON, who took these beauts. The first is a picture of one of several interior vans used for filming inside as you can see here.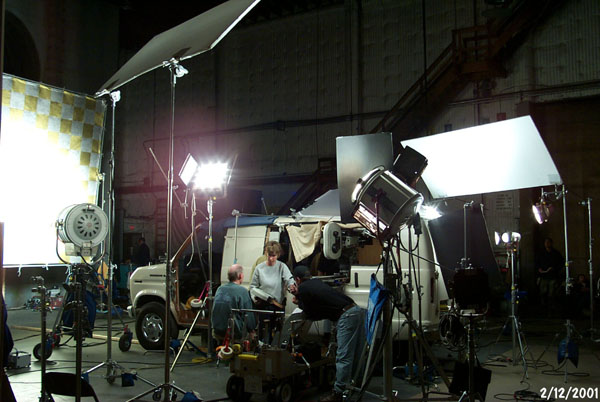 Next, is of Silent Bob and that pipe I referred to in my past reports.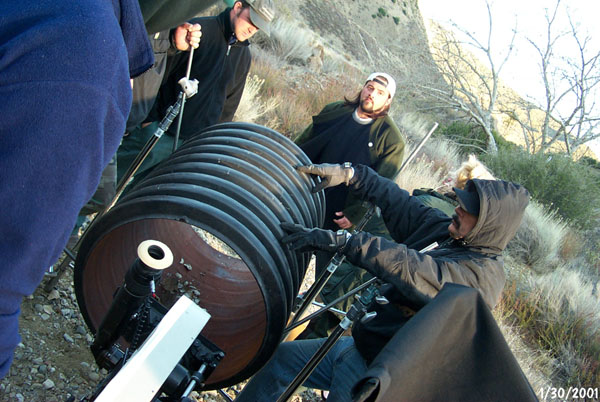 And finally, this is a copy of the final call sheet handed out to the LA crew, prior wrapping in Jersey.
It's signed by Kev, Scott Mosier, 1st AD, Tim Bird, Line Producer, Laura Greenlee and Unit Production Manager, Sue McNamara.