Trio of stars make 'Porno' with Smith
By Gregg Goldstein

NEW YORK -- "Knocked Up" star Seth Rogen, Elizabeth Banks and Jason Mewes have signed on to star in writer-director Kevin Smith's raunchy new comedy "Zack and Miri Make a Porno" for the Weinstein Co. and Dimension Films.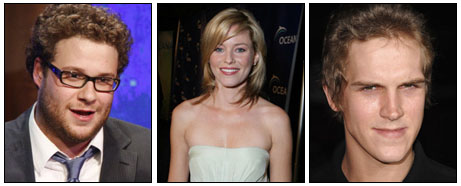 Producer Scott Mosier's feature casts Rogen and Banks in the title roles, childhood friends who ask their buddies to make a porno to get them out of debt. Soon everyone begins having sex with everyone, leading the previously platonic Zack and Miri to re-evaluate their chaste relationship. Longtime Smith ensemble player Mewes ("Dogma") plays a supporting role.
The film marks the most recent of many films Smith and Mosier have made with Bob and Harvey Weinstein, from their 1994 feature debut "Clerks" to "Chasing Amy" and the recent "Clerks II."
"Getting Seth in this flick is like suddenly growing an extra six inches in the crotch," said Smith, who wrote the role especially for Rogen. "And as if that wasn't awesome enough, we scored the comedically and aesthetically gifted Elizabeth, too. Castwise, I'm now extremely well-hung."
Weinstein Co. execs Michael Cole and Carla Gardini will oversee the project. Cole and Eric Roth negotiated the deal on behalf of the Weinstein Co. and Dimension.
Rogen is repped by UTA and Principal Entertainment. Banks ("The 40-Year-Old Virgin") is repped by UTA and Untitled Entertainment. Mewes is repped by Endeavor and Adam Griffin at Kritzer Levine Wilkins Entertainment.
Kevin Smith & Co. make 'Porno'
Anthony Breznican
It's a comedy threesome.
Seth Rogen of Knocked Up, Elizabeth Banks of The 40-Year-Old Virgin and Clerks filmmaker Kevin Smith have joined forces for a comedy about two friends who decide to cure their financial ills by making an X-rated video.
Zack & Miri Make a Porno begins shooting in January in Pittsburgh. "It sounds deceptively straightforward with the title, but it's a little more complicated than that," says Smith, who acknowledges the topic is an eyebrow-raiser.
The writer/director is famous for pushing the limits of taste in comedies that also are tempered with touching moments, such as Chasing Amy, Dogma and Clerks II. In Zack & Miri, however, the touching moments may also be moments of touching.
"Everything I've done, on the surface, seems off-putting to some audience or other, but if you sit down and watch the flicks, you'll see they're sweet-natured and not angry or hateful or provocative for the sake of being provocative," Smith says.
The story is about two platonic friends who discover feelings for each other while trying to earn some cash. The awkwardness of the circumstance and the characters' unsexiness fuel the jokes.
"It's very much a love story," Smith says. "Zack and Miri just want to make a good old-fashioned dirty movie."
Seth Rogen set to 'Make a Porno'
'Knocked Up' star cast in Kevin Smith film
By TATIANA SIEGEL, MICHAEL FLEMING
Seth Rogen has inked to play the titular Zack in writer-director Kevin Smith's "Zack & Miri Make a Porno" for the Weinstein Co. and Dimension Films. Elizabeth Banks will star opposite Rogen as Miri.
Film reunites the pair, who appeared together in "The 40-Year-Old Virgin."
Story revolves around two lifelong platonic friends who are deep in debt and enlist the help of their friends to make a porn pic for some quick cash. But Zack and Miri realize that they may have more feelings for each other than they previously thought.
Scott Mosier is producing. Shooting is scheduled to begin in January in Pittsburgh.
Film marks the seventh time Smith has collaborated with Bob and Harvey Weinstein -- a relationship that began 13 years ago with "Clerks."
Rogen's recent credits include "Knocked Up" and "Superbad." Banks recently appeared in "Invincible."