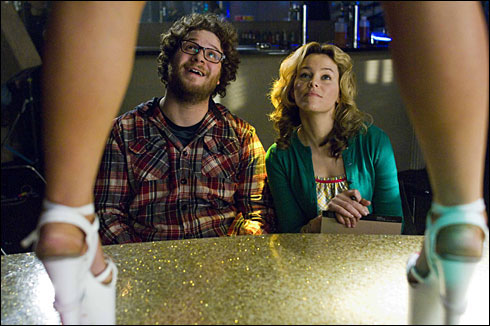 By Anthony Breznican, USA TODAY
MONROEVILLE, Pa. — It sounds like the most dangerous title in movies —Zack & Miri Make a Porno — but in comedy these days, the riskier the better.
Kevin Smith's film, now shooting in western Pennsylvania, stars Seth Rogen and Elizabeth Banks as broke friends who embrace their desperation by making their own X-rated tape to pay off their debts. In the process, they uncover romantic feelings for each other.
Smith readily acknowledges that having "porno" in the title could turn off some potential viewers.
"We're just hoping that by the time the movie comes out, if the marketing people do their jobs right, it's a word that people will kind of get over," he says.
This is the era in which the nation just spent weeks chattering about Sarah Silverman and Jimmy Kimmel's dueling videos about having sex with Matt Damon and Ben Affleck. (Banks released her own spoof video about Rogen.) And R-rated films such as Knocked Up (co-starring Rogen), The 40-Year-Old Virgin (co-starring Banks and Rogen) and Superbad are major comedy hits.
Industry analysts say Porno fits right in. "It's one of the best titles of the year," says Jeff Bock, an analyst with movie tracking firm Exhibitor Relations. "It sells the film for exactly what it is." It helps, he notes, that Smith (Clerks, Dogma) has a dependable fan base. "They'll follow him anywhere. I don't think anything is too risqué for Kevin Smith fans."
But that base is somewhat limited; Smith's films tend to gross $20 million to $30 million. (Knocked Up brought in nearly $150 million.) With star-on-the-rise Rogen and the success of Knocked Up, "expectations are up for this particular film," Bock says.
Those behind the film point out that it's more than just a filthy movie (though it's plenty filthy).
"What's weird about it is, it's dirty. But it's so incredibly sweet," Smith says, noting that Porno will be rated R (obviously, there's no actual porn in it). Banks says grown-ups are mature enough for immature jokes. "These kinds of comedies, these sweet and sexy comedies, have all started to push the envelope. This movie takes it even further, that's definitely true. But if you're over 15 years old … you know what sex is, and in comedy you're always trying to find those taboos that you can break for a laugh. Sex in America is a huge one."
And Rogen? For him, there's no safety in safety: "Oh, we are going too far … " He laughs and adds: "The first thing people should think is: 'Are they allowed to do that?' "