Filmmaker Hopes To Make Red Bank A Movie Mecca
By Eileen Moon and Joan Ellis

RED BANK - The Highlands native who turned a dead-end job into a high-profile movie-making career is now putting Red Bank on the map as a mecca for independent filmmakers and their audiences. Kevin Smith,who achieved national success when his film about a day in the life of a clerk at the Leonardo Quick Stop became a hit at the Sundance Film Festival in 1994, reportedly has his eye on the former municipal building at 32 Monmouth Street as the new home for his company View Askew Productions.

While the building has not yet been put up for public bid, Borough Clerk Carol A. Vivona confirmed this week that Mr. Smith has inquired about the property. View Askew is presently located in small offices above Broad Street, but is renting the second floor of the municipal building for editing and production work on his current projects. Several other local investors have also expressed interest in 32 Monmouth, Ms. Vivona said. One of the building's attractive features is that it comes with seven parking spaces - a major asset in a town where parking has become a four letter word.

As his national success has grown with the release of "Clerks," "Mallrats," and "Chasing Amy," Mr. Smith has maintained his roots in the two river area, buying a condominium here and using Red Bank as the base of operations for all his endeavors.

On Monday, Kevin Smith's "Vulgarthon '98" brought a wave of fans and followers to Loew's Sony Theater on White Street, where 500 ticket holders lined up before 11a.m. to claim their seats for the noon to midnight "five flicks/forty bucks" independent film fest featuring films by Mr. Smith and his friends. Many of those on line outside the theater had come to Red Bank from New York City to participate in the movie marathon.

The schedule included showings of three Smith classics: "Clerks," "Mallrats," and "Chasing Amy," which was recently named the third best film of this year by Time magazine, plus two new films by Smith's colleagues: Malcolm Ingram ("Drawing Flies" ), and Vincent Periera ("A Better Place").

During the event, Mr. Smith introduced his colleagues from the growing repertory group whose members fill any number of production and performing roles in his productions. The audience roared their enthusiasm for the now familiar faces of producers Scott Mosier, Bob Hawk, actors Jason Mewes, Brian O'Halloran, Carmen Lewallen Lee, Jason Leigh and Bill Woods, who organized the Vulgarthon event.

Many in the cheering audience were dressed nearly identically in 'grunge' pants, Vulgarthon T-shirts and baseball caps worn with bill forward. "Did you guys all call each other this morning to see what you wearing?" Mr. Smith asked the crowd.

Mr. Smith, who has become a familiar figure on the streets of Red Bank in his perennial long coat and boots, enjoys a reputation as a down-to-earth talent not taken in by the glitz and glamour of Hollywood.

A graduate of Henry Hudson Regional High School, Mr. Smith attended Vancouver Film School, where he met Mr. Mosier. Mr. Mosier earned his degree there, but Mr. Smith dropped out, returning to the two river area and the 4 to 10 p.m. shift at the Leonardo Quick Stop that inspired his screenplay for "Clerks."

With the permission of the store's owner and the help of his friend, Mr. Mosier, Mr. Smith began making his first independent film in 1993.

The film crew started work each night after the store closed, recruiting their friends and relatives as cast members and financing the project with credit cards and part-time jobs and some help from family members.

Mr. Mosier edited the film in the video store adjacent to the Quick Stop. During the approximately three months it took to produce, the two fledgling filmmakers often worked around the clock, enduring the patronizing attitudes of some who believed they were wasting their time.

"Everybody thought we were a couple of kids running around with a video camera," Mr. Smith said in 1994.

When the 16 millimeter black and white film was finished, the pair paid $500.00 to enter "Clerks" in the annual Independent Feature Film Festival at the Angelika Film Center in Manhattan.

Their film was shown early on a Sunday morning - an inauspicious time to attract the people that Mr. Smith and Mr. Mosier needed to see the film. Only-a dozen people attended. A few days later, the friends learned that among those people was Robert Hawk, an influential independent film consultant and a member of the nominating committee for the Sundance Film Festival. Other calls followed.

In January of 1994, the friends flew to Utah for the debut of their film at Sundance. It was an immediate hit.

During the early days of his success, Mr. Smith vowed to continue working at the Quick Stop as a way of staying grounded. While that plan eventually faded away, Mr. Smith has managed to nurture a thriving filmmaking career while remaining close to his roots, setting many of the scenes from his movies in locations familiar to two river residents.

Four years after his 'overnight' success, Mr. Smith has built a solid reputation as a comic chronicler of the real and surreal experiences of his generation.

A new, Smith-produced film "Good Will Hunting'" is currently attracting sell-out crowds at the box office. Meanwhile, he and the crew at View Askew are at work on their next project, "Dogma," scheduled for release by the end of the year.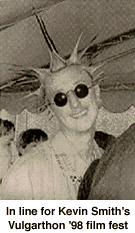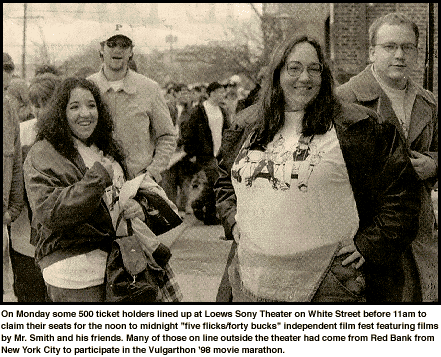 Photo's by Scott Longfield