---
---
Virgo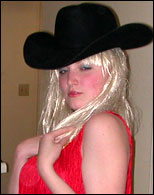 Name: Missy, Melissa.
Location: Spokane, WA USA
Age: 21
Hobbies: Web / graphic design, watching tv shows on dvd, spending time with my boyfriend & friends, stand-up comedy, art, playing my Nintendo Dual-Screen, Gamecube and PS1, and my boyfriends' X-Box, comic books.
Bio: I got to meet Kevin on the set of Jersey Girl through the Make-A-Wish Foundation, and am forever grateful for everybody at View Askew's immense generosity and kindness.
Favorites
VA Flick: Chasing Amy
TV Shows: 12 Oz. Mouse, The Adam Carolla Project, Arrested Development, Aqua Teen Hunger Force, The Colbert Report, Curb Your Enthusiasm, The Daily Show, Dead Like Me, Entourage, Freaks & Geeks, Harvey Birdman, Home Movies, Law & Order, The L Word, Lost, Loveline, Mystery Science Theater 3000, The Oblongs, The Office (BBC), Roseanne, The Shield, Squidbillies, Stella, Tom Goes to the Mayor, Too Late With Adam Carolla, Undeclared, Unsolved Mysteries, The X-Files
Films: Fight Club, Trainspotting, The Princess Bride, Aliens, Creepshow 2 (campy horror films rule.), Evil Dead, Evil Dead 2, Quills.
Music: It's a general rule of mine that anything Mike Patton is involved with deserves a few listens. Faith No More, Fantomas, Tomahawk, Lovage, Mr. Bungle, Ben Folds Five, Bjork, Bodega, The Breeders, Cage, Electric Six, Fiona Apple, Incredibad, Iron & Wine, Mindless Self Indulgence, Modest Mouse, Nine Inch Nails, Nirvana, Pavement, Queens of the Stone Age, Squarepusher, Boards of Canada, Aphex Twin.
Books: Chuck Palahniuk books, She's Come Undone by Wally Lamb, Love & Death by Max Wallace & Ian Halperin, Strangers In Paradise by Terry Moore, Preacher by Garth Ennis & Steve Dillon, The Walking Dead by Robert Kirkman
Quote: "It won't be too much, if I carry it for you." - Sayid on Lost
People: David Cross, Bill Hicks, Adam Carolla, Geoffrey Rush, Bruce Campbell
Websites: myspace.com/mjn, thelonelyisland.com
| | |
| --- | --- |
| | tulippetalohare |