---
---
The Lord Riddler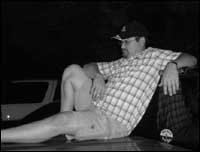 Location : Tulsa, Oklahoma
Born : None of your Damn Business
My Heroes : Dale Earnhardt, Kevin Smith, My father.
Favorites
Directors : Smith, Spielberg, Lucas, Mann, Coppola, Scorsese the list goes on...
Movies : The Holy Saga of Star Wars. Jaws, The Godfather films, Last of the Mohicans, Alien, Aliens, Airplane, all of Kevin Smith's films
Music : The Greatest Band on Earth, Tenacious D, Ozzy Osbourne, Alice Cooper, Enigma, Dire Straits, AC/DC, Metallica, John Williams and the London Symphany Orchestra, Led Zeppelin, The Rolling Stones, Eagles, Bad Company, Doobie Brothers, Atlanta Rythmn Section, The Loki Project.
TV Shows : Only Fools and Horses, BlackAdder, Fawlty Towers, Married...with Children, The Simpsons, Family Guy, Friends, Home Improvement.
| | |
| --- | --- |
| | |
| | askewman1 |
| | thedarklordriddler |