---
---
Northern Darling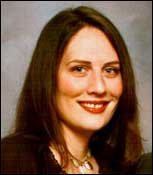 Name: Mandy French
Location: Ontario Canada
Age: 27
Occupation: Domestic Engineer.
Hobbies: Cooking, my Pets, Church, Reading, Dancing
Bio: I love my Family very much, I love to read and write short stories, I love going to movies about once a week. I have a serious addiction to entertainment magazines, and my favorite thing to do is cook Christmas dinner for my family. I am a huge advocate for animals rights. My wish is to be a production manager in "the" industry, however I don't think that I can kiss enough ass to do it successfully. My personal hero is Jesus.
Favorites
VA Flick: Dogma, Chasing Amy (tied).
TV Show: Friends, Documentaries, Discovery and History channels.
Films: Good Will Hunting, Out of Africa, Awakenings, Some Like it Hot.
Music: Coldplay, Beastie Boys, LAL, Jack Johnson.
Books: East of Eden.
Quote: "Real loss is only possible when you love something more than you love yourself." - Good Will Hunting
Actors: Robin Williams, Gary Oldman, Meryl Streep, Anthony Hopkins, Matt Damon, Dustin Hoffmann