thy this.
---
[ Follow Ups ] [ Post Followup ] [ The View Askew WWWBoard ] [ FAQ ]
---
Posted by Yoda1013 at me-lewiston-pw-646.mint.adelphia.net on August 25, 2003 at 09:25:38:
In Reply to: Kevin's agent posted by Press Whore on August 25, 2003 at 01:18:40: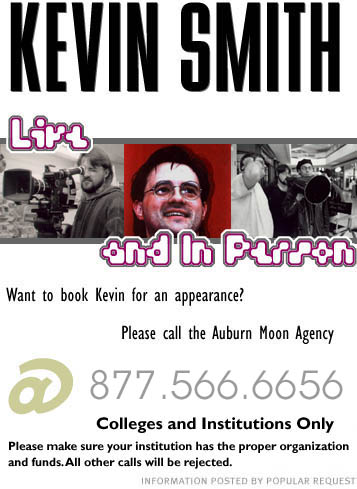 : Does anyone know how I would get in touch with Kevin's Agent about getting an e-mail interview with Kevin for my college newspaper?
: And I know a least 10% of the people who just read that are saying to themselves, "Suuuurreee... *I* know Kevin's agent's e-mail. It's ksmithsagent@hotmail.com"... so you need not humor me any further. Your joke would have been SOOO funny if I hadn't heard it a thousand times before.
: Thanks to those who have any real info.
---
---