SOLD OUT!!!! Good times for a change! Kevin Smith is coming to LONDON and here's your chance to see him LIVE and IN PERSON! So get your hand off your willy, stop wanking to the photos in Page 3 and read on!
Kevin Smith will be appearing at the world famous Prince Charles Cinema in London for another round of his infamous live Q&A's. For those of you who missed him the last 2 times and would have given all the Cadbury chocolates and Walkers crisps in England to see him again - here is your chance! Don't delay!
The Details:
Date:
Thursday April 5, 2007
Time:
7:00pm - 11:00pm
Timed so you can catch the last tube home.
Location:
Prince Charles Cinema
7 Leicester Place, London, England
(just off Leicester Square - up from Häagen-Dazs)
By Tube:
Leicester Square
Picadilly Circus
By Bus:
Contact Travel Information on 020 7221234 for routes or visit Transport for London
IF YOU GET LOST:
Give us a call from 1-9pm on 020 7494 3654, and we'll guide you here in time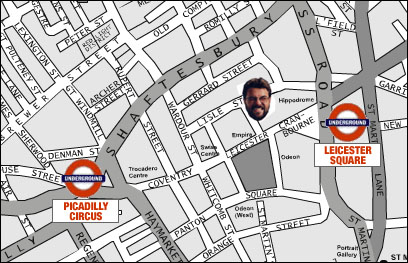 How to get tickets:
Tickets for this event are $60 (US) (approximately £30.00) each can be purchased online here. Tickets are general admission.
IMPORTANT!!!
PLEASE BRING YOUR ID, YOUR CREDIT CARD AND A PRINTOUT OF YOUR ORDER CONFIRMATION TO THE EVENT ON APRIL 3RD. They will be checked at the door before your are admitted. These 3 items will be your tickets to the event. TICKETS WILL NOT BE MAILED
Tickets are VERY LIMITED - so get them now!
ABSOLUTELY NO REFUNDS ON TICKET PURCHASES!! PLEASE MAKE SURE YOU CAN ATTEND BEFORE YOU PURCHASE!!!
GB Pounds to US Dollars Conversion: £30.00 GBP = $60.00 US Dollars

SOLD OUT!!!!