at your heart out, Hollywood.

A mini-revolution is in the process of changing the way the film industry works: Movies are being made right here in Monmouth and Ocean counties by young men and women tuned in to a studio mogul's dream audience -- the frequent film-going, under-35 crowd.

Consider the mounting evidence: Kevin Smith's 1996 box-office ($12 million) and critical hit "Chasing Amy" was shot almost entirely in Monmouth County. Smith rocketed to fame in 1994 with his first, $27,000 cheapie, "Clerks," shot completely in the Middletown Township-Highlands area.

Now Smith's proteges, backed by money from his deal with Miramax Films, New York, are coming forward with their own features: "A Better Place," from Vincent Pereira of the Leonardo section of Middletown, was shown to enthusiastic audiences at the recent Hamptons' Film Festival and at New York's Walter Reade Theatre. It was shot entirely in Monmouth County.

Highlands' Bryan Johnson's bold and brilliant "Vulgar," filmed locally, is now in post-production, as is the first movie from Middletown's Brian Lynch -- a sketch comedy with "Saturday Night Live" and "Kentucky Fried Movie" pedigree called "Big Helium Dog."

Starting at noon tomorrow, the filmmakers will show off their efforts at Vulgarthon '98, a sold-out festival featuring films by Smith and friends at Red Bank Arts Theatre, White Street. On the bill: Smith's "Clerks," "Mallrats" and "Chasing Amy"; "A Better Place" from Pereira, and Malcolm Ingram's "Drawing Flies."To make the Left Coast cringe further, post production on "Vulgar" and "Big Helium Dog" is taking place in a bleak but capacious space with nothing more in it than a couple of Steenbeck editing machines, old file cabinets and dilapidated couches: It's 32 Monmouth St., until this fall, Red Bank's municipal building. Now it's for sale.

Smith has a bid on the place; he figures he'll hear if he's got it in February, when his View Askew Productions company is on the road making his fourth movie, "Dogma."

Want some name-dropping? "Dogma," written, directed and co-produced by Smith, stars the hottest of hots: Matt Damon, Ben Affleck, Chris Rock, Emma Thompson and Linda Fiorentino. Smith also appears.

Salma Hayek co-stars along with Alan Rickman, who piqued brainy Thompson's interest in the new project.

"The story we heard is that Alan Rickman was telling Emma Thompson on the phone how much he liked 'Chasing Amy.' The budget for 'Dogma' is $4 million. Everybody is coming on board with the same attitude: They're in it for loving 'Chasing Amy'; they loved it so much they're doing 'Dogma' for reduced rates," said Smith's film school pal and business partner, Scott Mosier.

Now if that roster doesn't rock Hollywood's world, or at least nudge it a bit, what will?

How about Smith's View Askew company giving the big studios a run for their money with its complete line of merchandising items, tied into "Clerks," "Mallrats," "Chasing Amy," and down the road, "Dogma?"

Fans clamored for the films' memorabilia via the company's Web site (http://www.viewaskew.com), particularly after Smith and Mosier did an insider chat and outtakes show at the Count Basie Theatre in Red Bank last year.

The View Askew offices on 69 Broad Street, best recognized by Mosier's looming clown icon in the window (the clown is the protagonist of Johnson's "Vulgar"), are jammed to the gills with T-shirts, tapes, books, posters, trading cards, bumper stickers. This side of the business has grown so big even Mosier and Smith don't know the extent of it anymore.

A nice, chunky key chain of the clown icon is available.

"You can't walk down Broad Street without seeing that damn clown!" Smith cracks, his affection for his first offices obvious. "But truth to tell, we have run out of room here. Our main project is moving everything into a Red Bank building. God willing, it will be 32 Monmouth. It comes with parking, which in this town, is like finding gold."

Smith would move his company's other merchandising arm, a comic book store at 69 Monmouth St., into 32 Monmouth's first floor, and turn the second and third floors into View Askew offices and production center. Smith briefly toyed with moving into 32 Monmouth's top floor but decided "I didn't want to live that close to work."

If 32 Monmouth does become the operation's center, the place will be redubbed -- The View Askew Institute. Oh, that wry Smith humor.

Wry is obviously cool with the Left Coast. They've adopted an "if-you-can't-beat-'em,-hire-him strategy": in between pre-production work on "Dogma," Smith is writing a script for a classic kind of Hollywood movie, Chevy Chase's next "Fletch" comedy. Smith is being paid in the "middle three figures" for the screenplay. He says he learned how to write dialogue from reading the "Fletch" series by Gregory McDonald.

Humor also is an important commodity for Smith, Mosier and their fledgling filmmakers, Johnson, 29, and Lynch, 24. Johnson shot his 90-minute, black comedy "Vulgar" with "enormous help from Scott" and some advice from Smith.

"I was really concerned with the performances. Kevin brings out great stuff in actors so I asked him how he did it," Johnson remembers. "He said, 'You know what you want, right? Don't stop until you get what you want!' "

Mosier said the budgets for "Vulgar" and "Big Helium Dog" will reach between $70,000 and $80,000 each, peanuts in Hollywood but not chopped liver in the independent world. Why risk the money on newcomers?

"Bryan Johnson has a leg up because I've known him for years," Smith says, "and he's far more talented than anyone I know, including me. It's ... completely inventive, outrageous. It's dealing with clown rape, and he pulls it off."

The same rationale applies to Lynch.

"I wouldn't make a movie with somebody I don't know," Smith says. "I know Brian. He's made a film nobody else has made since 'Kentucky Fried Movie.' It's sketch comedy and it's as funny as I've ever seen. We're very proud of both of them."

Lynch, Lincroft section of Middletown, was editing his movie on the big green Steenbeck one cold morning. Smith's assistant and girlfriend, Kim Loughran, has a part in the movie; a novice, she's very amusing in her bit. Smith's in the film, too, being hilariously obnoxious.

Lynch, a film major dropout from William Paterson College in Wayne Township, has the funny, skewed sensibility familiar to Smith's films and heard around his office. Lynch dropped out of college in his fourth year, just before graduating -- "I figured I was close to graduating so I just left," Lynch says with irony.

Describing his free-form, funny movie, he says "there is no character you root for. You find out in the first five minutes that the main guy is kind of a schlub, he's incompetent, he kills people by accident and doesn't much care.

"Every scene is one that I thought would be funny but doesn't fit into any plot. I just threw them all together and hoped that I could find some real bare-bone plot to drag you from sketch to sketch."

Like Pereira's moving, semi-autobiographical "A Better Place," the Lynch and Johnson films will be offered first to festivals such as Sun-dance in Park City, Utah.

"Until you've gone to some kind of festival, most of the time distributors are afraid to purchase your film," Mosier says. "So they wait for a festival. Every distributor saw 'Clerks,' but only until it played at Sundance, was it OK!"

At 33, Susan Skoog, who grew up in Shrewsbury, says she has "hit the jackpot" by having her first feature, "Whatever" accepted at Sundance.

Skoog likes the idea of paying audiences seeing her film there, but she has already accomplished the tough part: The prestigious, Oscar-winning Sony Pictures Classics has agreed to release "Whatever," probably in May 1998.

Tom Bernard, Middletown Township, a vice president of Sony Classics, praised Skoog's film for its humor and realism.

Praise is coming to director William DeVizia's "Lesser Prophets," especially for the bravura performance of its star, A-list actor John Turturro. Scott Glenn and Elizabeth Perkins co-star. DeVizia grew up in Matawan; his movie's screenplay was written by Paul Diomede, Keansburg.

And Aberdeen Township's Robbie Bryan has assembled an impressive cast, including David Ogden Stiers, Ruth Buzzi and Dana Ivey, to star in his "The Stand-In," set to begin shooting in Monmouth County in April for a budget in the $450,000 range. Bryan raised the money by pitching his script to Hollywood insiders and local film-friendly types such as Joe Amiel, owner of the Spring Lake Heights restaurant, The Old Mill Inn. Amiel is a partner with actor Danny Aiello in a film production company.

Moreover, local filmmakers can skirt Hollywood and avoid the hassle of commuting to New York because support services, such as post-production studios, are popping up locally. Smith re-mixed "Chasing Amy" at a Middletown Township production facility.

"With 'Dogma,' we'll want to do that digitally, and we can do that right here," Smith says. "The less you have to go to New York, the better."

After Smith concludes "Dogma" and writing "Fletch," he'll get to work on his next feature. Once again, Red Bank will serve as a major location.

His distributor, Miramax, has discussed releasing "Dogma" in December, "for Oscar" consideration, Smith said.

There is the potential for a beautiful irony here: Smith insists on avoiding the Hollywood scene by making his movie away from the Left Coast, then Hollywood pays him its highest honor. That would make some movie; they could call it "Local Boy Makes Good."

Above: Some of the cast and crew from "Big Helium Dog," filmed in Middletown Township: Kevin Crimmins of Sayreville, Matt Kawczynski of Cranford, Brian Lynch of the Lincroft section of Middletown and Lorene Scarfia of Holmdel Township.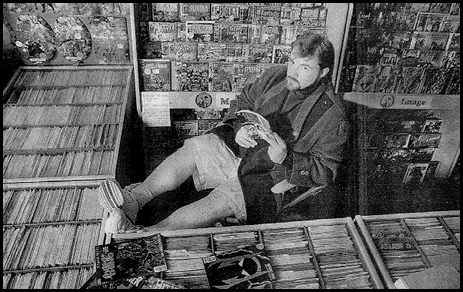 "Chasing Amy" director Kevin Smith takes it easy at his comic book store in Red Bank.

Photos by PETER ACKERMAN, MICHAEL GOLDFINGER AND JAMES J. CONNOLLY.