'Chasing Amy' director takes time out to talk about sex, success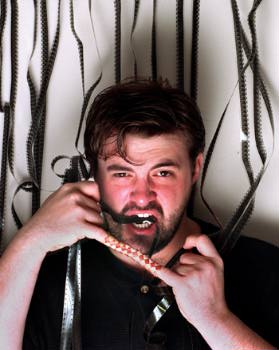 Filmmaker Kevin Smith.

NOAH K. MURRAY photo


By ELEANOR O'SULLIVAN
MOVIE WRITER

Filmmaker Kevin Smith talks the way he writes and the other way around: A recent conversation with Smith at Madeline's Restaurant in Shrewsbury was the usual brainy barrage of observations and insights into the movie business, being in love, success and failure.

Smith chatted about his new movie, "Chasing Amy," opening April 4 in New York and in this area on April 18, and about the woman who helped inspire it -- his companion and the movie's star, Joey Lauren Adams -- as well as his screenplay for Jon Peters' new "Superman Reborn."

"Chasing Amy" is the story of a lesbian falling in love with Holden, a comic book creator who has major problems with her adventurous heterosexual past. Adams, Ben Affleck, Jason Lee, Jason Mewes and Smith star.

Smith, 26, is a Highlands native now living in Red Bank. His earlier films are "Clerks" (1994) and "Mallrats" (1995).
INSPIRATION:

"It certainly comes from a very personal place. There is definitely a degree of autobiography to the flick. The Holden character is absolutely the closest character that I have written to myself. And while Joey is not gay, the whole dynamic of a guy who fancies himself very liberal, winds up dating a lesbian, has no problem with her lesbian past, but the dude kind of reaches his crossroads is dealing with her heterosexual past -- that was quite more experienced than his. I know the feeling he has, of facing his own conservatism.

"It's a horrible thing when you're like 'Hey man, I go with the flow, I agree with everything, then find out that deep inside, you have lines, you have limits. And you are, regardless of what you do for a living, you are one of these cats who would love to get married, have some kids, all the good stuff."

ON LESBIANISM:

"The lesbian aspect is a metaphor but it's always the first question I get. It's a fairly polemic film with lots of political flags. If taken the wrong way, the film becomes very issue oriented. The lesbian angel is really just to illustrate a point, of liberalism versus conservatism.

"The lesbian press has been decidedly mixed and when all is said and done, I'm sure it will be mixed to negative. But Gwen (Turner, star of the lesbian film, "Go Fish") thought it was dead on; she said it happens all the time. Nobody wants it up on the screen, particularly from a white straight filmmaker."

FILMING LOCALLY:

"Using the two locations, Red Bank and New York just kind of underlines Holden's attitude toward the city, which is dead-on for a suburbanite: 'Ooh, I don't want to go there.' It doesn't take a genius to see that there are a lot of references to me and my life.

"All of the interiors are right above Jack's (Music, Broad Street, Red Bank). Jack was completely gracious; he is a king, the most tremendous individual we've met in this area, ever. He told us, 'I got two floors upstairs.' We looked, they just needed some work. We told him we'll be fixing it up a bit and he said 'Use it, whatever you want. I won't charge you because whatever you do will be more than what there is now.' And the dude let us plug into his electrical lines; it was just support, man.

"That's not a local attitude; you'd be surprised at how many people wanted something. At one location we got permission from people at the offices but then one of the (owners') people showed up and told us, 'I'm gonna shut you down and throw you in jail.' They got $2,000 out of us, like extortion.

"The town of Red Bank was great; we shut traffic down, we shut the street down; they were actually doing road construction on Broad Street when we were shooting and they shut it down so we could shoot."

ON DATING YOUR FILM'S STAR:

"We only had one problem when we were shooting the movie. It was just a matter of keeping clear this is about the relationship and this is about the work. We were doing the scene at the hockey rink. Joey is the kind of actress who is very questioning -- there are moments when she's 'Why, why am I doing that?'

"I told her to do something and she yelled across this sea of 75 people, 'Why?' I was just, you feel every head, every head, turn. I was just like, 'Because I said so.' It was a bad night. One of those moments you think 'Just be the professional and do what your boss says. Don't take the girlfriend attitude.'

"Where it's really a bitch is I just got back from a 10-day tour of the middle of the country, and she was doing the West Coast. When you are on a tour like that, you're staying in some really nice hotels and it's a bitch when you go to bed at night by yourself, and you know you have a girlfriend. There are times when you want your girlfriend."

ON JON PETERS AND "SUPERMAN REBORN":

"It's in pre-production now and they start shooting in October. I'm actually holding up the process as we speak, because I have to finish up a second draft to send to them which they wanted like a week ago but I was on that tour.

"He (Peters) says 'You gotta come work for me; I'll give you a big budget.' I say, 'I don't want a big budget. I want to do $250,000 movies. And he's like, 'Oh man, nobody wants to do that.' He doesn't understand."

ON LIFE AFTER "CLERKS" AND "MALLRATS":

" 'Clerks' is the exception, not the rule; it certainly doesn't happen to everybody. The sad lesson is you make 'Clerks' and it's funny and people get into it, then you make 'Chasing Amy' and it's the same thing. 'Mallrats' is not a personal thing, you just make a movie and it gets shredded. It teaches me that if I had started out with 'Mallrats,' everything would have been hunky dory, but I had to make 'Clerks' first so it prohibits me from making a sheerly entertaining movie like 'Mallrats.'

"The reaction to Clerks' was like 'Oh my god, it's brilliant,' which I've never quite understood. I found the over-praise kind of alarming because I knew it meant terrible things for the next movie and those things came true.

"But I'd make a zillion 'Mallrats' to get to 'Chasing Amy,' that's for sure."
Published in the Asbury Park Press 4/04/97